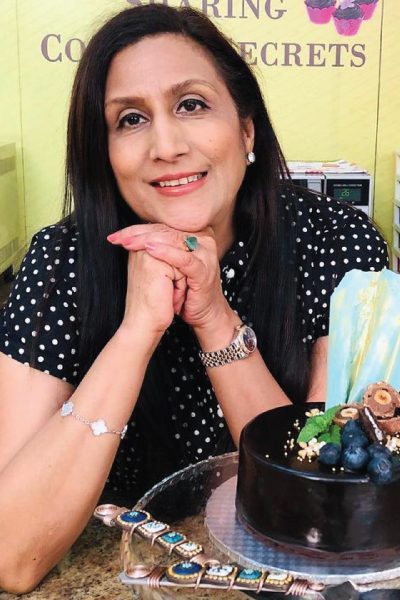 Manju Sethia
Manju Sethia
was brought up in London in in a vegetarian Jain family.
She started baking at the age of 12
and
It was her childhood dream to own a bakery/cake shop
. Having moved to India in 1979, she would always make special delights for her three kids by learning recipes from various cook books, her own research and lots and lots of practice. It was once her her kids became older she got the opportunity to put her years of practicing and knowledge to good use.
She wanted to start teaching and share her knowledge of eggless baking and vegetarian cuisines. She conducted her first course in 1998 and the response and her ways of hands on teaching in the minute of details were a massive hit since day 1. It was just the beginning of a great journey as through word of mouth her classes kept getting more and more popular. Since then Manju Sethia has been teaching the art of vegetarian cooking to home bakers & professionals herself and in collaboration with other chefs.
She also started doing exhibitions promoting her hand made chocolates and other desserts and the response received was stupendous. Through these exhibitions and her loyal student base she then started to get orders and thus started Krazy For Chocolates, a 100% vegetarian bakery which today boasts 25 stores in Kolkata.
ONLINE COURSES
Sharing Cooking Secrets was started by
Manju Sethia in 1998
. She has completed 3 diplomas in chocolate and has years of experience. It took many years of reading, research and practice to master some of these vegetarian recipes. It was her dream to share these secrets to one and all. Mrs Sethia has taught
 1,00,000+ students
, many of whom have made their careers in the 
F&B industry not only in India, but China, Dubai, Bangladesh, Nepal, Singapore, USA etc
.
Her short courses are still conducted every month in Kolkata and we hope to bring these courses online soon. Her recipes became popular because of their ease, simplicity and transparency, and the same is also reflected on this website and her YouTube channel which was launched in 2017. Today her YouTube channel has almost 300k + subscribers and almost 30 million views in just 4 years.
Recently, Mrs Sethia did conduct her first online short course which also was a tremendous hit. This course will be repeated soon in the year 2021 and we hope to have more and more courses online soon. Till then, feel free to watch her YouTube channel SHARING COOKING SECRETS and spread the secrets. Please LIKE, SHARE & SUBSCRIBE !
Edible Glitter
Edible Glitter
is one of
Manju Sethia's very own invention
which
she has been making for more than 20 years
. It can be applied by sprinkling on the top of your creations like flakes or dust until the desired effect is achieved. It is
100 % Vegetarian
,
no added preservative
with a long shelf life.
We have been manufacturing this for 2 decades and have a variety of colours and variations. We have clients in export and domestic markets. Edible Glitter can be applied on many food products such as cakes, desserts, ice creams, champagne glasses in bars and can be used on stencils and plating ideas etc.This easy to use glitter with an attractive appearance and variety of colours appealed to many instantly. Moreover as all our products this too is vegetarian with no added preservatives.
Edible Glitter can be applied on many food products such as cakes, desserts, icecream, salads, cream, wine or champagne glasses in bars and can be used on stencils and plating ideas etc.
Edible Glitter is also available for sale on popular online portals such as Amazon and Flipkart. For more info on how to use and apply edible glitter and see some of its applications, please check the Episode on "How to use Edible Glitter" on our YouTube channel.